Updated!
Jimmy wins his 9th FIA European Pro Stock Championship at Santa Pod, UK!

Please click on "Racing News" in the menu.
---
Jimmy Ålund announces Summit Racing Equipment sponsorship
A very good start to the season
Norrköping, Sweden, May 23, 2014 - Eight-time FIA Pro Stock champion Jimmy Ålund is thrilled to announce a multi-race sponsorship with Summit Racing Equipment. Ålund will fly the Summit Racing colors in 2014 as he chases a historic ninth FIA Pro Stock championship.




This comes after Jimmy returning to Sweden after substituting for Greg Anderson in his Summit Racing Camaro for the first five races of the 2014 NHRA Mello Yello Drag Racing Series. Ålund gathered not only qualifying and round points but capped of his 2014 season in the USA with a win at the 5th annual NHRA Four-Wide Nationals at zMAX Dragway. Ålund being the first European driver to win a Wally in an NHRA professional class.

"I am stunned, these positive hits from Summit Racing keep coming", says Jimmy about the news, "when the Summit pro stock racing team asked me to drive one of their cars it took me by complete surprise and last week Jim Greenleaf, Summit Racing's Motorsports and Events Manager called and politely asked if I would accept an associate sponsorship for 2014".

Jimmy continues, "the 2014 season has been a dream so far and to get to drive for such a legendary team sponsored by the finest business in the industry is a great honor. Add to that a sponsorship from Summit Racing for the European racing season... I'm at a loss for words."

"Jimmy Alund filled in for Team Summit's Greg Anderson while the four-time NHRA Pro Stock champion recovered from heart surgery at the start of the 2014 season. Greg's are big shoes to fill; and fill them Jimmy did, taking his first NHRA win in Charlotte, NC at the NHRA 4 Wide Nationals in April. Summit Racing is very excited to extend the relationship as Jimmy competes in the 2014 FIA Drag Race Series in Europe" said Jim Greenleaf, Summit Racing's Motorsports and Event Manager. Greenleaf added "We've learned that the eight-time FIA Pro Stock Champion is very interested in American muscle cars. It's a great fit!"

The first race of the 2014 FIA Pro Stock Drag Racing Championship series is The Main Event held at the historic drag strip at Santa Pod in the UK. The qualifying starts on Saturday morning, May 24, 2014.


---
Jimmy Ålund Earns First NHRA Win at Four-Wide Nationals!!
Charlotte, NC., April 13, 2014 - Jimmy Ålund proved why he was chosen to fill in for Summit Racing Pro Stock driver Greg Anderson by scoring his first American national event win at the NHRA Four-Wide Nationals in Charlotte, North Carolina.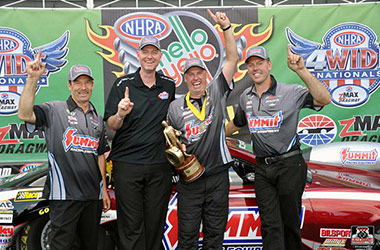 The eight-time European Pro Stock champion knocked out a string of competitors on the way to his first American final round. Ålund is the first European and the fourth foreign driver to win a national event in the Mello Yello Drag Racing Series.

"To be able to outrun nine cars in one day—and against drivers and teams that I've looked up to—is pretty awesome," said Ålund. "Greg told me in Pomona to 'drive like I stole it,' and I'm actually thinking about stealing it right now!"

Ålund qualified eighth with a 6.550 second, 211.96 MPH pass. He and Number One qualifier Chris McGaha topped V. Gaines and Larry Morgan in Round One of eliminations. In Round Two, Ålund and Shane Gray put McGaha and Jeg Coughlin, Jr. on the trailer. Ålund used a .038 second starting line advantage to reach the finish line first, running a 6.563/211.43 to Gray's 6.555/211.96.

In the finals, Ålund was matched with Gray, Vincent Nobile, and Erica Enders-Stevens. Ålund took the victory with a 6.562/211.59 run that was a thousandth of a second quicker than runner-up Gray's 6.563/211.69.

"This means a lot," said Ålund. "I have a lot of wins in Europe, but this is something special. It will be hard to climb out of the seat. We have a really great group of people at KB Racing, and I've had a great time. The Summit Racing guys are awesome, and everyone is laughing and having a good time. I think that's a very key ingredient."

Ålund will pilot the Summit Racing Camaro at the NHRA Spring Nationals in Houston, Texas before handing the driver's seat back to Greg Anderson. Ålund's win moved him up to eighth in the Pro Stock points standings.


---
Ålund Finally Sees Win Lights, Takes Care of Business for Team Summit
LAS VEGAS, Nev., March 30, 2014 – Jimmy Ålund knew that expectations were high this weekend for the Summit Racing team at the Strip at Las Vegas Motor Speedway. The pressure was on to perform in front of the KB Racing team owners Ken and Judy Black and their son Kenny Jr. in their hometown, and also for the team's sponsor, Summit Racing Equipment, at their title event, the SummitRacing.com NHRA Nationals. Ålund rose to the challenge in good form and knocked out Team Summit's fiercest competitor while illuminating his first two win lights in NHRA competition in his bad hot rod, the red Summit Racing Chevrolet Camaro.

Ålund qualified in the top half of the field for the first time in Las Vegas, starting from the No. 8 position and earning a first-round meeting with KB Racing-powered Vincent Nobile. It was a tough draw, particularly when young Nobile acted in typical fashion and launched ahead of Ålund, recording a .010-second reaction time to Ålund's .032.

Stunningly, however, both drivers soon fell into trouble. They were the first pair of Pro Stock cars to run on the racing surface on Sunday, and they each soon found out that they had more power to give than the track could hold. Ålund and Nobile were both on and off the throttle as they lurched down the quarter-mile.

"I was actually prepared to do whatever it took to take the car down to the finish line, and I was thinking that both of us were probably going to be in trouble – which we were. I drove it like I stole it and got to the finish line," said Ålund, a resident of Sweden and multi-time European Pro Stock champion racing for Team Summit while Greg Anderson recovers from heart surgery performed earlier this year. "[The tires were] shaking really bad. I put it into first gear and it was shaking. It was shaking in second gear, too. I tried to put it into third gear but it deadheaded [transmission would not go into gear] because it was shaking so bad, so I was out of gear. I just shoved it into fourth and went. It's eliminations. You do what you have to do."

Ålund got the nod in an unusual 7.821 to 8.110 win, and he advanced to a second-round meeting with Jeg Coughlin. The representative of a rival mail order parts house had the quicker car in their late afternoon meeting – eliminations for the Pro Stock crowd were greatly delayed due to extremely windy conditions in the area – but Ålund was wide awake at the starting line and launched well ahead of his opponent.

The victory was awarded by way of a holeshot, with Ålund first logging a .024 reaction to Coughlin's sleepy .062 and then edging him at the finish-line stripe to score with a 6.689, 206.92 to 6.653, 207.82. The margin of victory was a ridiculous .002-second, approximately 10 inches.

"I've been watching what he has been doing over the years as a driver, and I know he is one of the best out here," said Ålund, who had yet to earn a round win in NHRA competition before the day's events. "Putting him on the trailer for the team made my day."

The victory over Coughlin paved the way to a semifinals meeting with Summit Racing teammate Jason Line, which guaranteed a Summit car in the final round.

It was a thrilling and close race, but Ålund's weekend of firsts came to a conclusion as Line got the win with a .006-second reaction time to Ålund's .019 paired with a 6.645, 207.98 to 6.647, 208.10.

"We ran within two-thousandths of each other, and there's not much you can do," said Ålund. "I was happy for the team. We had a good race, and it was good timing. Greg was here this weekend, and it was better to have him here. From my point of view, we work well together. We have the same thoughts on a lot of things on the car and on the set-up, too. I would say that working with Greg was making me even more comfortable than I was before.

"My wife, Anna, is here from Sweden; all the people from Summit Racing are here at the Summit race; Ken, Judy and Kenny Black are here. I couldn't have picked a better race to do well. This weekend was something for me that I was hoping to accomplish. I'm very happy."


---
Ålund Hopes for Best Outing Yet for Sponsors, Team Owner and Special Guest
MOORESVILLE, N.C., March 25, 2014 – Jimmy Ålund, a native of Sweden and multi-time European Pro Stock champion, is truly looking forward to the 15th annual SummitRacing.com NHRA Nationals at The Strip at Las Vegas Motor Speedway. Although Ålund has been to glittery Las Vegas and the renowned drag strip before, it will be the first time that he has had the honor of racing at the premier facility, and he will do so in front of the KB Racing team owners as well as Summit Racing Equipment, the title sponsors of the event.

"I'm really looking forward to it, of course," said Ålund, who is keeping the seat warm for Summit Racing's Greg Anderson as he recovers from heart surgery performed earlier this year. "It's a very special place for this team because it's the hometown for our team owners, Ken and Judy Black. It's also a Summit race, and that makes it very important to all of us. I hope to do well there."

Ålund will make the 5,000-plus mile trip from Sweden to participate in the fourth race of six in which he is scheduled to compete in the Summit Racing Chevrolet Camaro. While he is away from home and looking to bring more success to the championship-caliber KB Racing team, Ålund also keeps a distant eye on his business back home.

"I have a repair shop for American cars over in Sweden," said Ålund. "We repair both newer style American cars and older cars, like muscle cars. I am also a distributor for KW Parts, which is my main sponsor over there. It's like a small speed shop."

While Ålund is away, a trusted partner minds the business.

"We've been business partners for 20 years together, and he takes care of everything while I'm gone," said Ålund. "It's great, but I'm sure he's had his hands full since I'm gone so much. It will be good to get back, but I'm looking forward to the next few races and especially the race this weekend in Las Vegas."

Ålund was accompanied earlier in the tour by friends from Sweden and will now be joined, for the first time this year, by wife Anna at the event that takes place on the outskirts of the glitz and glamour of world famous Las Vegas.

"Anna has never been there, so that is another thing that is going to be fun. It will be a great race, that is for sure," said Ålund, who has qualified for every race so far this season and will be looking for his first-round win on Sunday in Las Vegas. "Everything is going good with the team, and it's starting to work. Now we just need to get the round win. That's what's next."


---
Ålund again improves career best elapsed time heading into raceday at Gatornationals
GAINESVILLE, Fla. (March 15, 2014) – Qualifying is complete at the 45th annual Amalie Oil NHRA Gatornationals, and Summit Racing Pro Stock driver Jimmy Ålund continued to impress as he bettered his career best numbers and qualified in his highest position of the season. Ålund, a native of Sweden and an eight-time FIA Pro Stock champion, is the No. 9 qualifier at Auto-Plus Raceway at Gainesville and will race Summit teammate Jason Line in the first round of eliminations.

"This car was behaving exactly the way that we wanted it to," said Ålund, who was a quick 6.527 at 212.79 in the first round to immediately make a statement and followed up with a 6.537, 212.90 before racing to his best elapsed time ever in NHRA competition, a 6.525 at 212.36. He finished with a slowing 8.97.

Ålund was ever-so close to qualifying in the top half of the field for the first time on American soil, but Line swooped in and scooped up the honor in the final hour. Although the two clocked identical 6.525-second blasts, Line got the nod on speed – his 212.76 mph topped Ålund's 212.36.

"We sure could have been a little bit faster [in the first round], but we had to race the racetrack and that's what it could give us right there," explained Ålund. "Second round we made a good run in my opinion, and third round was also a really good run in my opinion. We were working on it for the fourth round, and we just had a little mishap. I felt something wasn't right so I lifted. Anyway, we're going to race Jason tomorrow. The only good thing about that is that we're going to have a Summit Racing car in the next round."

Ålund continues to enjoy his six-race stint on the NHRA tour as KB Racing's Greg Anderson recuperates from heart surgery to repair a bicuspid aortic valve. This weekend in Gainesville, the pit area and stands are overflowing with drag racing enthusiasts who have taken kindly to the friendly Swede.

"I have a lot of friends in the grandstands here, and when the pits are full like they've been today, I sign a lot of autographs and talk to a lot of fans," said Ålund. "It was a really fun experience. I like Florida; this is a good place to be. I couldn't be more happy, and it's going to be fun racing Jason tomorrow. Both of us want to win badly, I can tell you that."


---
Ålund makes raceday debut in Summit Racing Camaro
(2-9-2014) POMONA, CA – Sweden's Jimmy Ålund is playing a significant role in the world of NHRA Pro Stock for the early part of the season as he pilots the Summit Racing Chevrolet Camaro typically driven by Greg Anderson, who is out for the first three months as he recovers from surgery. Ålund may be a somewhat unfamiliar face on the tour, but he came to the game with no intention of warming the bench and earned a chance to race for the title at the first race of the 2014 season of the Mello Yello Drag Racing Series, the 54th annual Circle K NHRA Winternationals at Auto Club Raceway at Pomona.

Ålund overcame the challenges of learning a new car and qualified the second blue Summit Racing Chevrolet Camaro in the No. 10 spot with a best time of 6.546-second at 211.86 mph. For his efforts, he scored a first-round match with fellow Chevrolet Camaro pilot Shane Gray.

In their mid-morning meeting, Ålund was eager to nab the first win light of his career. Unfortunately, he was perhaps a bit too eager and illuminated the red light by .014-second and forfeited the win.

"I think this is only the third one [red light] in all my days," said Ålund, who explained that the LED lights on the Christmas tree, NHRA's timing system, were different than the system used in Europe, where he is an eight-time FIA Pro Stock champion. "It's a little different here, but that's okay. That's racing."

Taking over the controls of a car driven by a competitor who possesses a plentiful collection of NHRA Wally trophies in sizes both large and small might be intimidating, but for Ålund, joining the KB Racing team has been a natural fit. After all, he has been competing with KB Racing power beneath the hood of his own championship Pro Stocker for a year and a half and won the European Pro Stock championship with KB Racing power in 2013.

"So far, it's been fantastic," said Ålund. "It's an honor to be with this team; it's actually a lot of fun."
---
European Pro Stock champion Jimmy Ålund to drive for KB Racing on Mello Yello Drag Racing Series tour
(1-31-2014) MOORESVILLE, NC – Eight-time FIA Pro Stock champion Jimmy Ålund will be piloting a Summit Racing Equipment/KB Racing Camaro for the first six events of the 2014 NHRA Mello Yello Drag Racing Series.

Ålund will be driving Greg Anderson's Summit Racing Camaro beginning with the 54th annual Circle K NHRA Winternationals, February 6-9 at Auto Club Raceway in Pomona, California. Anderson will be out of the driver's seat for the first three months of the season due to scheduled surgery.

"It's really not a big deal," Anderson explained about his condition. "I was born with a bicuspid aortic heart valve (two valve openings instead of three). It's something we've kept track of over the years, and my doctor has decided it's time to make some repairs so I stay in good shape. I will miss the first few races of the season, but once the doctor says I'm good to go, I'm gonna be right back at it looking for another Pro Stock championship."

Ålund is one of the most successful Pro Stock drivers in Europe, winning championships each year from 2004 through 2009 as well as 2011 and 2013. In 2013, the Swedish racer qualified Number One at all six events of the FIA European Championships season, won five of those six events, and reset the Pro Stock ET and Top Speed records (6.534 seconds, 213.31 miles per hour).

Part of Ålund's winning formula was the KB Racing engine under the hood of his 2012 J&J Performance Camaro. It was that connection and Ålund's 2013 performance that got him the nod to drive the Summit Racing Camaro while Greg Anderson recuperates.

"I'm really honored to be a part of this organization," Ålund said about KB Racing. "I have some big shoes to fill—Greg is one of the best Pro Stock drivers in the world, bar none. I believe that I'm up to the challenge, though. I'm looking forward to helping KB Racing win another championship."

"Just like Greg and Jason Line, I'm a hands-on guy—I work on my own race car alongside my team," Ålund continued. "I hope my experience will be valuable to the KB Racing team. It always helps to have a new set of eyes on the car."

Ålund has competed in NHRA Pro Stock Racing before, running several national events during the 2010 season. The experience gave him a taste of what American professional class drag racing is all about.

"In the U.S., you are running against the best of the best," Ålund explained. "After all, this is the home of drag racing, so you expect that. We don't race full-time in Europe like the pro teams do here, but racing is racing—we are just as competitive as the racers in America. This is a great opportunity for me to show that to American race fans."

Ålund will be testing in Phoenix, Arizona prior to the season-opening Circle K NHRA Winternationals. He and teammate Jason Line will begin the Winternationals with two qualifying sessions on Friday, February 7.
---
Pre-season Test'n Tune leads to record numbers
A solid start to the 2013 FIA Pro Stock Drag Racing Championship
"Test'n Tune" is a very important part of drag racing. Testing the race vehicle before the start of the season as well as during the ongoing season is a big help in winning races. The teams go into a Test'n Tune weekend with a strict strategy for testing out new parts, engine combinations, chassi settings and much more.

The J&J Performance Pro Stock Racing Team has already had two full weekends of testing before going to the first championship race of the season, the Main Event at Santa Pod Raceway in the UK on May 25.

These test sessions turned out well for the J&J Performance Racing Team. The first test session was at the 1/8th mile Malmö Raceway at the end of April. The team was satisfied with the weekend, "it was a good start to the season, we tested different chassi settings and got all the answers we were looking for" says Jimmy Ålund. "Many thanks to SRIF for opening up their track for testing so early."

May 11-12: The second Test'n Tune session was held at Tierp Arena, Sweden, the world famous 1/4 mile all-concrete drag strip. It was the first race of the Swedish Drag Racing Championships and the organizers gave provisions for the European Championship cars and motorcycles to test. A treat for any fan of Pro Stock racing as nine of the strongest Pro Stock cars in Europe showed up for testing.

Testing at Tierp Arena
Jimmy started out with a very soft run for getting a feel of the track but that changed radically in the second run as the J&J Performance Racing Team stunned everyone at the track with a full power run that stopped the timers at 6.60 seconds with a speed of 338.98 km/hour (210.63 mph)!

This is testing, no FIA records can be set but as a comparison the current official FIA Pro Stock records are 6.64 seconds and 334,90 km/hour (208.09 mph). Both those records are held by Jimmy Ålund, the speed record was set at the 2012 European Finals, the last race of the 2012 season.

To set the stage for 2013, Jimmy followed up with a 6.62 / 338.77 km/hour (210.50 mph) and ended a fantastic string of test runs by being the first FIA Pro Stock car in the 6.5 second range with a run of 6.59 / 338.98 km/hour (210.63 mph). Amazing ETs and three consecutive runs at more than 4 km/hour faster than the current FIA speed record is nothing short of fantastic.

These are very strong numbers and Jimmy Ålund explains why, "we are proud to announce that we have the gotten the trust of Ken Black Racing to run one of their engines this year. We want to thank KB Racing for giving us this opportunity and all of their personell for the quality work they do". Jimmy continues, "it's now up to us to make the best of what KB Racing has delivered, it's a whole new combination for us but needless to say we are very satisfied with the numbers we have run this early on in the season. The current FIA ET-record is four years old and it's about time it gets broken. It will happen this year as the performance levels in FIA Pro Stock racing continues to get better and better." Jimmy signs off, "this year will be tougher than ever."

The first race of the 2013 FIA Pro Stock Drag Racing Championship series is The Main Event held at the historic drag strip at Santa Pod in the UK. The qualifying starts on Saturday morning, May 25, 2013.
---
2012 into the books
Recordbooks as well
It was a tough season for the J&J Performance Racing Team. It started with hectic work on a brand new car, new in every single detial and that is a very tough proposition in the very competitive class that Pro Stock is.

After a season of very hard racing and weather that did not cooperate with the Championship, the team ended up in a strong second place but no sad faces. "No, we are very satisfied with how we progressed through the season with a car that was all new. Winning the Finals was icing on the cake", says Jimmy. Indeed, the last race also included Jimmy setting a new European speed record for Pro Stock and he sees The European Finals as the start of the 2013 season.

You can read all the race reports by clicking on "Racing News" in the top menu.

Time flies and work is already under way to prepare for the 2013 season where Jimmy is looking for championship number 8.

So very welcome to the first race of the 2013 championship season: The Main Event at Santa Pod Raceway.

The 2013 FIA Pro Stock Championship kicks off on
the morning of May 25th, 2013.
---
J&J Performance Racing Team:
On Tour, 2012
Movie time...
Updated May 29: Sixth video now in place - Back to Europe
Updated May 20: Fifth video now in place - Saturday qualifying
Updated May 20: Fourth video now in place - First day of qualifying
Updated May 17: Third video now in place - Second day of testing
Updated May 16: Second video now in place - Testing at the track

As we reported earlier, the J&J Performance Racing Team is on a tour to the US for taking delivery of the new Chevrolet 2012 Camaro Pro Stock car.

The team is currently in the US, putting finishing details on the car and on to testing on Monday and Tuesday, May 15-16.

You can watch the video reports by clicking here
---
We welcome a new racing season and Geodis as a new sponsor!
It's time...
The first round of the FIA European Pro Stock Drag Racing Championship is only a few weeks away and we have some very good news for this season: We warmly welcome Geodis as a new sponsor of the team.

Driver and seven time European Champion Jimmy Ålund says, "We're obviously very happy about this. Geodis is the leader in international shipping logistics and are used to handle very complex situations on a global basis. We feel very good about representing such a professional operation as Geodis."

J&J Performance Racing Team is on the move to bring their new 2012 Pro Stock Camaro home from the USA. On May 11, the team travels to the USA with Jerry Haas Race Cars shop in St Louis as the destination. The team will finish up all the final details needed to complete the new car and get it ready for championship racing. "It's a tight schedule" says Jimmy, "but we're not at all worried as we're used to working hard".

The plan includes testing at Gateway Motorsports Park and if all goes well the team will attend the Dollar General NHRA Summernationals at Heartland Park in Topeka Kansas on May 18-20.

Next up after that is the first round of the 2012 FIA European Pro Stock Championship at Santa Pod Raceway in the United Kingdom. The Pro Stock-season starts around lunchtime on Saturday, June 2.

Don't miss it!
---
2012 starts with a bang
Awards galore!!
It's only January but time flies and Jimmy Ålund and the whole J&J Performance Racing Team are hard at work in preparation for the 2012 drag racing season.

Jimmy getting the awards
Why not start off with a party? At the end of January, the prestigious Swedish automobile magazine "Bilsport" celebrated being in business for half a century with a huge gala party that included awarding deserving members of the Swedish racing community.

No surprise, Jimmy received the award for senior Drag Racer of the Year but that was not all. Bilsport had set up a readers popular vote for all the nominated drivers within the different motorsports disciplines. Jimmy picked up 32% of those votes and won that award as well. Much deserved and a good inspiration for this years racing.


The new Jerry Haas race car
So what's up for 2012? In the awards acceptance speech Jimmy ended all the rumours, "thanks to our main sponsors Klintberg & Way and Exclusive Cars we'll be racing a 2012 Camaro in this years European Pro Stock Championships".

The car is brand new and of course built by Jerry Haas Race Cars in Fenton, Missouri. It's the fourth 2012 Camaro Pro Stock in line from Jerry Haas Race Cars, delivery expected in time for The NHRA Gatornationals in Gainesville Florida at the beginning of March. Will the team be there? "We'll see, but it wouldn't be a bad thing to race the car in the US before shipping it to Europe".

Stay tuned...
---
Thanks for your support!
2010 is over
Another exciting season is over for Jimmy Ålund and his race team. You can read the race reports by clicking on the "News" and "Latest news" in the top menu.

Be sure that the goal for 2011 is nothing else but to go for yet another European Pro Stock Championship.

Time to plan for the next race. Very welcome to the first race of the 2011 championship season: The Main Event at Santa Pod Raceway.

The championship kicks of on the morning of May 28th, 2011.
---
The 2010 Klintberg & Way
US Tour review
Heading back to Europe...
Qualifying at 4-Wide at zMAX Dragway: WJ getting the sting...
It might sound like a paradox but the US Tour was a success even if the team did not qualify according to plan. No doubt, the three major factors the team had to over- come were known long before the Tour started: No previous tuning data from any of the four tracks in The Tour, nowhere close to having the same experience and track time as the US pro teams who race NHRA Pro Stock full time, plus missing a few horsepowers compared to the big teams.

Engine development for reaching the absolute top echelons of NHRA Pro Stock is a process that goes on literally every waking hour of the year. The top engine builders currently squeeze out around 1500 horsepower from an 8.2-liter (500 cubic inches) naturally aspirated gasoline V-8 engine running carburators. And these top-of-the-line engines can not be purchased, they are rented to a few teams at a cost of many hundreds of thousands of dollars for a single season. Not an option for the J&J Performance Racing Team.


Testing at Rockingham
For a European Pro Stock team to travel to the US and go all out in NHRA Pro Stock competition under these conditions and successfully fight for those few hundredths of a second that makes the difference between being a number one qualifyer or last place is a serious effort.

No doubt, the J&J Performance Racing Team out-qualified a few well known competitors and showed that they are as good as some of the US teams though the budget for the necessary horsepower is not in place.

A new personal best time was set during this US Tour: 6.638 seconds over the Englishtown quarter mile which is better than the current European Pro Stock record. At that, Jimmy and the the team hold both ends of those European records, 6.649 seconds and 207.07 miles per hour. That's 334.24 km/hour for the metric crowd.

"Yeah well.. of course, we're a little bit disappointed right now" said Jimmy on Saturday afternoon at historic Old Bridge Township Raceway Park in Englishtown, right after the final qualifying round of this years Klintberg & Way US Tour. "We really felt our goal was realistic. It was all about qualifying at one or more of the events" - "Good thing is that this has given the whole team lots of real useful experience for moving forward towards what we want to accomplish in the future".


Sure enough, after a couple of hours of reflection it's all on to future endeavours. Jimmy comments with his trademark grin while loading the trailer for the last time this trip "...this has made us stronger for racing back in Europe..."

"Seriously, I'd like to put all sorts of positive attention onto this whole team. They have contributed to all we've accomplished - Petter Greborn, Kalle Hrupa, Mats Appelgren, and Lasse Rodeblad from Exclusive Cars. Without them there would not be any racing".

"It's also been a real pleasure to have met so many good people during this US Tour, especially the staff of the NHRA organization and all the NHRA Pro Stock mechanics and drivers. It was also great to see (and hear!) a few Swedish hard core fans who made the trip across the Atlantic to cheer us on, many thanks. We're now looking forward to the challenge of racing for as many points as possible in the 2010 FIA European Pro Stock Dragracing Championship."


Qualifying at Englishtown.
Yes, there are Swedish flags in the stands...
This years US Tour is over and the Klintberg & Way/Exclusive Cars GTO is now on its way back home to Europe for more racing.

Reports and results will be posted here.
---
An update from Curacao -
The International Drag Festival
Curacao, the Caribbean...
"Hello everybody,
Unfortunately we struggled all week to try to run some respectable times. When we finally started to get the car to work it was time for eliminations and it was not enough. We ran 6.71 against Jeff Dobbins who went low 6.50s and who also went on to win the event.
One can not imagine that drag racing would be so big on a carribbean island but there were 256 cars that went through inspection at this race...
Win some, lose some, it has been a very exciting and fun experience to be here and we'd like to thank everyone that made it possible.
Next on the agenda is the continuation of the Klintberg & Way US Tour. We'll be in the lanes again on Friday May 14 at the Summit Racing Equipment NHRA Southern Nationals in Atlanta, Georgia.
Greetings
Jimma and Petter"
---
We´re off towards
new adventures!
Curacao, the Caribbean...
"Monday, April 26, me and crew chief Petter Greborn will fly to Curacao, an island off the coast of Venezuela in the Caribbean. The island is located on the equator so the one thing that that would be guaranteed is racing under good weather.
The race we'll be attending is "The International Drag Festival 2010" which is a large yearly event run from April 28 to May 1. I've been invited to run a former Pro Stock car which I think comes from the Alderman/Geoffrion team once upon a time. It now sports a Pat Musi/Hallberg built 648 cubic inch motor running a nitrous oxide system and the transmission is a 5-speed Lenco. With separate levers for each gear... The car has also been updated with the magic of chassie builder Jerry Haas.
The owner of the car is Frank Brandao and he also owns another five cars, most of them former Pro Stock cars.
This is going to be real good fun, as long as I remember to release the lever and pull another one when shifting gears..."
A bit different than here in Europe, daytime is too hot to race so this is all about nightracing. Please visit www.CuracaoDrag.com for more details on "The International Drag Festival 2010" and dragracing in the beautiful Caribbean Islands.
---
Jimmy Ålund and
the Klintberg & Way US Tour
6-time back-to-back FIA European Pro Stock champion Jimmy Ålund of Norrköping, Sweden is to race selected NHRA events in the US during spring and summer 2010 and will not be defending a seventh European championship this season.
The team has scheduled 4 events with start in Charlotte, NC with the inaugural NHRA Nationals at Z-Max dragway March 25-28. Tour continues with NHRA National Events in Atlanta, GA May 14-16, Chicago, IL June 3-6 and ends in Englishtown, NJ June 10-13. During their stay the car will be stationed in the race shop of Pat Musi Performance, Carteret NJ were Pat and Robert Hallberg will be to their supporting service. They will not only host the car between races but also support Jimmy Ålund Racing with race transporter/trailer to use at the events.
Jimmy Ålund Racing long time engine builder Bob Ingels and J&B Performance is currently updating the engine for the Klintberg & Way Pontiac GTO and the team is confident they will have the horsepower to meet the American Pro Stock performance.
The car will be shipped in the good hands of Geodis Wilson freight management company and is scheduled to be back in Sweden in time for Veidec Festival at Mantorp Park. This will be the first European event for the team 2010 and the plan is to continue the FIA tour after this with the events at Hockenheim, Germany and Santa Pod, England.
- It will be a big thrill and a great challenge to race against the world elite in the tightest professional drag racing class around. We know we have the material to be in the field but do not come close to have the same experience as the American professionals and this is the big challenge for us – it will not be easy but we are not going there to have a pick-nick either, says Jimmy Ålund.
For further information or if you wish to be involved in this project, please contact Jimmy Ålund at jimmyprostock@telia.com.
---
Jimmy interviewed
on swedish TV
SVT Sportspegeln. October 14, 2009
---